The Mount Weld project covers an area of some 51 km2 and is centred approximately 28 km southeast of Laverton in Western Australia. The tenements are within 15kms of several world-class mines and milling operations and immediately adjacent to the Lynas Corporations' Mt Weld Rare Earths deposit.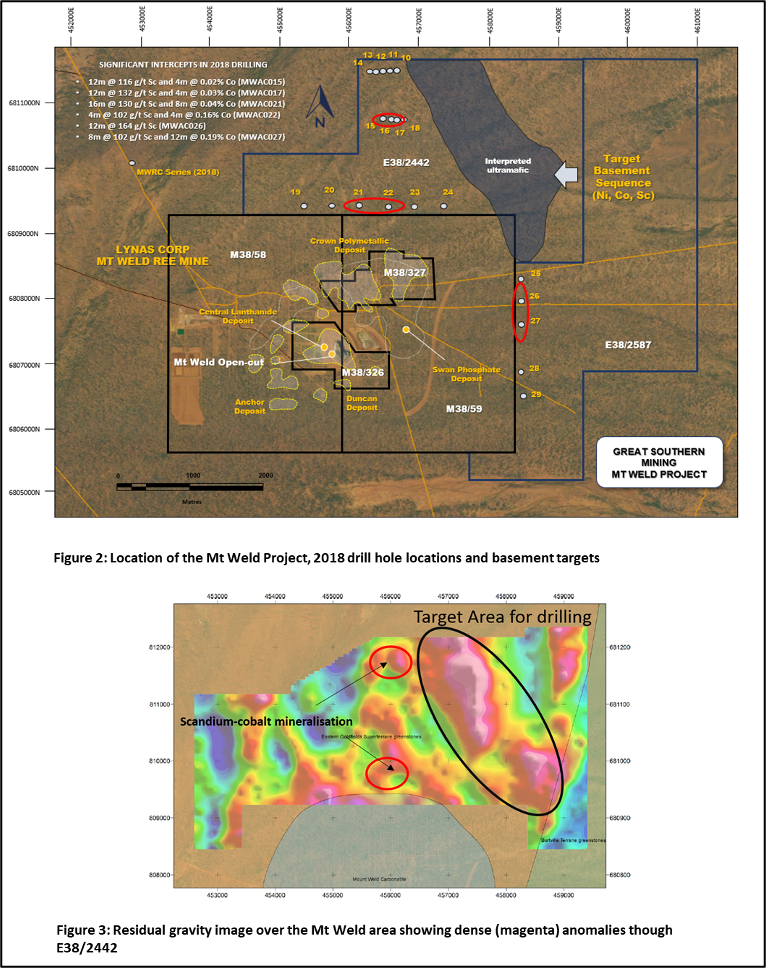 GSN analysis of reconnaissance aircore drilling undertaken by the previous tenement holders has identified thick mineralised horizons of scandium (Sc) and cobalt (Co) over extensive areas within a well-developed laterite.
Four-metre composite assay samples from drilling have returned up to 252 g/t Sc and 0.35% Co.
Outstanding Results include:
12m @ 116 g/t Sc and 4m @ 0.02% Co (MWAC015)
12m @ 132 g/t Sc and 4m @ 0.03% Co (MWAC017)
16m @ 130 g/t Sc and 8m @ 0.04% Co (MWAC021)
4m @ 102 g/t Sc and 4m @ 0.16% Co (MWAC022)
12m @ 164 g/t Sc (MWAC026)
8m @ 102 g/t Sc and 12m @ 0.19% Co (MWAC027)
The mineralisation is continuous over 1 km along both the east-west and north-south drill lines with potential to both extend the reconnaissance drill pattern and follow up on the better intersections at a closer drill spacing to improve knowledge about the mineralised zone.