The Edinburgh Park project comprises 7 Exploration Permits for Minerals (EPM's). The project also included the tenements previously known as the Johnnycake project, now link by contiguous tenure with Edinburgh Park. The project is a greenfields exploration project in the target generational phase, considered prospective for porphyry copper-molybdenum, Intrusive related gold systems (IRGS) deposits and epithermal gold-silver deposits. The area is considered under-explored with only minor exploration activities over the past fifteen year since the discovery in 2005 of the Mt Carlton multi-million-ounce gold deposit, owned and operated by Evolution Mining Limited, which is located adjacent the project tenure.
The Company announced in October 2019 that it had entered an agreement with Evolution Mining Limited (ASX: EVN) to co-fund a hyperspectral survey over the Company's 100% owned Edinburgh Park and Johnnycake Projects in North Queensland.
With the aid of a specialist consultant the company undertook processing of this data to assist with identifying illuminations of indicative geological alteration systems. The initial interpretation was focused on epithermal style mineralisation systems. The following results were presented:
A significant number of illumination targets were identified exhibiting indicative geological alteration footprints consistent with Mt Carlton-style high-sulphidation epithermal mineralization.
Five (5) are considered to be high priority targets and a further ten (10) secondary epithermal.
Several priority targets show approximately 2 km extent of advanced argillic alteration – 'hot-spots' zones; evident and comparable to those deposits which host the Mt Carlton style mineralization.
A number of sizeable low-sulphidation veins or vein set targets have also been interpreted within larger target areas.
The targets generated by initial hyperspectral interpretation, will allow a focused field exploration program around the highly prospective systems.
Interpretation of the hyperspectral data is ongoing for other styles of gold mineralisation zones known to exist in this district.
The survey was designed to gather substantial geophysical data to assist with target delineation and comes off the back of the reconnaissance drilling program undertaken earlier in 2019 (refer ASX announcement of 5 July 2019). Drilling intersected a significant zone of well-developed, high-sulphidation epithermal-style mineralisation below the surface of the main outcrop discovery.
The hyperspectral results and interpretation have reinforced field observations at a number of known prospects (e.g., Fish Creek, Mt Dillon) and identified many new significant high-sulphidation hydrothermal centres or 'hot spots'.
The newly identified epithermal targets indicate and supports the potential for multiple mineralized deposit discoveries within similar NE-trending structural corridors within the Permian volcanics. Mineral mapping and hyperspectral images for several of these prospects are presented in ASX announcement of 15 April 2020.
Fish Creek, Mt Dillon, and the newly interpreted Edinburgh Castle, Whydah South and Bogie Range prospects are considered high priority targets due to the scale of the advanced argillic zones evident in the hyperspectral data which can extend up to ~2 km and are comparable to those alteration 'hot-spots' which host the Mt Carlton.
The hyperspectral survey was part of the Company's philosophy of conducting modern 'smarter' exploration techniques to screen the whole of project for evidence of new economic mineral systems.
In June 2020 the company undertook additional processing of hyperspectral data to assist with identifying illuminations of indicative geological alteration systems related to porphyry and Intrusive Related Gold Systems (IRGS). The interpretation and results were summarised as follows:
Nineteen (19) illumination targets consistent with porphyry mineralisation alteration systems were identified.
Due to the scale of the alteration zones evident in the hyperspectral data, which can extend up to ~2 km, combined with the evidence of alteration zonation, three (3) targets are considered to be high priority targets and a further ten (10) smaller scale illuminations are considered to be secondary targets.
The Company also completed mapping and initial geochemical survey work over a 10 km2 area covering the porphyry stockwork north of Beaks Mountain within the Leichhardt Creek prospect area, a prospective porphyry and IRGS system. This geochemical mapping program is the first systematic gold focused exploration program undertaken over these highly prospective targets, which were identified from interpretation of hyperspectral data with geological mapping and geophysics.
Porphyry mineralization at Leichhardt Creek was noted and is associated with multiple intrusions and porphyritic dykes of diorite to quartz monzonite composition with associated stockwork sulphide and quartz-sulphide vein development and fracture fill.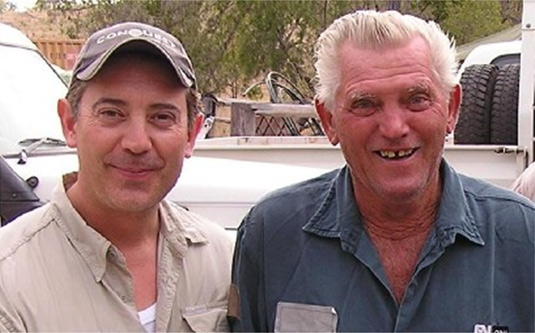 Paul Szabo was instrumental in the discovery of the Mt Carlton/Silver Hill gold and silver deposit in 2006, and continued to be a valuable member of the Conquest and Forte team until health problems forced his retirement in 2013.
He had an incredible depth of knowledge built up from decades of real world experience in the field in North Queensland. Paul's passion for his work, his brutal honesty and loyalty will long be remembered.