The Southern Star Deposit is located 4km along strike to the south of the Ben Hur Deposit and 32km south of the Garden Well Mill, both owned by Regis Resources Limited (Figure 1).
Duketon Mining Limited drilled the Southern Star Deposit in 2017-18, demonstrating over 600m of continuous mineralised strike length, open in all directions (Figure 2 and 3).
Best drill intersections at Southern Star, previously reported by Duketon Mining Limited, include:
15m @ 6.5 g/t Au incl. 4m @ 23.3 g/t Au
50m @ 1.8 g/t Au incl. 5m @ 9.2 g/t Au and 6m @ 2.9 g/t Au
50m @ 1.6 g/t Au incl. 17m @ 3.8 g/t Au
34m @ 2.3 g/t Au incl. 12m @ 5.3 g/t Au
25m @ 2.5 g/t Au incl. 5m @ 10.7 g/t Au
35m @ 1.4 g/t Au incl. 11m @ 2.9 g/t Au
12m @ 4.0 g/t Au incl. 8m @ 5.9 g/t Au
26m @ 1.6 g/t Au incl. 5m @ 6.3 g/t Au
15m @ 2.2 g/t Au incl. 4m @ 7.4 g/t Au
20m @ 1.5 g/t Au incl. 7m @ 3.5g/t Au
Refer ASX:DKM announcements 7/11/18, 6/8/18, 17/7/18, 19/4/18, 19/12/17 and 23/10/17 for details of the Southern Star drill intersections.
Mineralisation at Southern Star occurs as several stacked lenses within a sequence of foliated sheet-like gabbroic intrusive units and is associated with quartz veining and sulphide alteration between two strike parallel shear zones. The deposit is hosted in a fractionated dolerite sill, overturned and younging to the west that is over 100m wide in areas. Within this dolerite sill the most fractionated part, a quartz-magnetite rich unit up to 80m wide, appears to be the preferential host of the gold mineralisation. High grades, up to 60g/t Au have been intersected plus several 50 gram-metre intersections and, in places, plus 90 gram-metre intersections. Mineralisation occurs within 4m of the surface in areas and high grades are seen throughout the mineralisation. Sulphides and some quartz veining have been identified north and south of this main zone of mineralisation.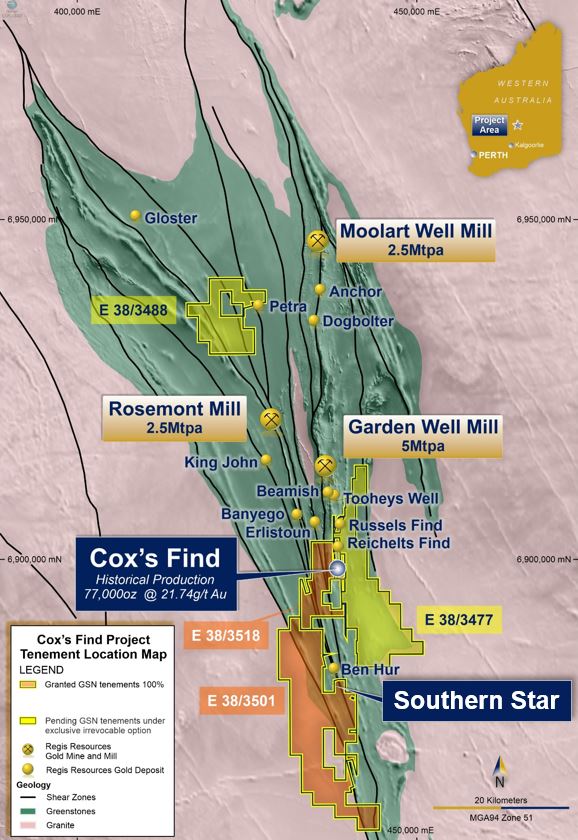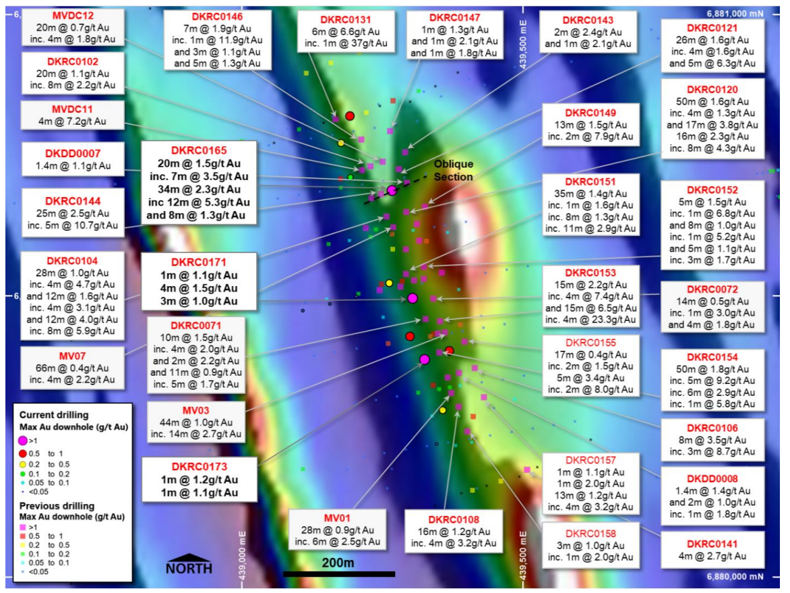 Refer to ASX announcement 2/2/21.